Thank you to every public health worker, medical professional and first responder on the front lines right now. Like firefighters courageously marching into a burning building, these angels are risking their own health and safety to protect others.
If you know someone on the front lines, I'd encourage you to call or send them a text expressing your gratitude. A person I reached out to yesterday shared I was the first person who had simply said "thank you." [Appreciation goes unnoticed until it's noticed!]
Also, if you or a loved one's health is being negatively impacted by the spread of COVID-19, my sincerest thoughts and prayers go out to you and them.
The reality is that everyone on this planet will be impacted by COVID-19 in one way or another. We're all on this roller coaster ride regardless of where we live.
This means we're in this together though. And in times like this, community is more important than ever. Feeling alone is one of the worst feelings.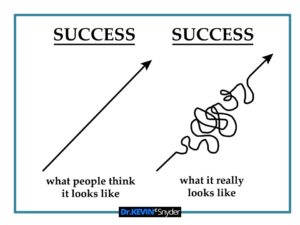 We will get through this. We have no choice not to. We're amidst "the squiggles" right now.
If you have seen me present, then you know how important grit and resilience are to battle through tough times.
You and I have gotten through tough times before. Our track record is 100 percent!
   • Amidst the Great Recession, I launched my speaking career.
   • After being let go, I found a much better job with a much better boss that paid much more.
   • While unemployed, I wrote my first book which became a best-seller.
   • One year after filing for bankruptcy, I had a 6-figure speaking business.
   • Three months after a very serious relationship ended, I met my wife.
   • One month after my sailboat caught fire and sunk (here's the video!), I found a bigger boat.
   • … I could go on!
Point is, I have gotten through tough times before and I will again. So will you.
It's not easy when you are admist the squiggles though. I am right now and I do not like it. It sucks.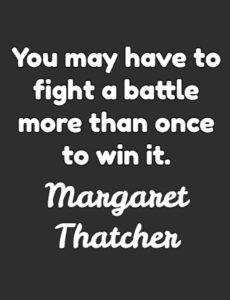 However, like you, I will get through it. I have no choice not to.
There is opportunity admist. There is a ring in the rubble. That success arrow reminds us to keep our chins up, persevere and grind on.
Remember, you and I have faced adversity before … we'll do it again. So let's stay strong and stand together stronger.
We'll get through this. We have no choice not to. Our track record is 100 percent!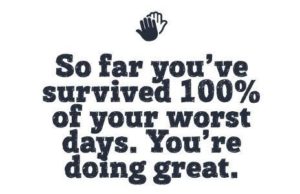 Focus on what you can be grateful for. We tend not to until we don't have it anymore.
If you have health, you have everything.