* Note: towards the bottom of this message is a link where today only you can download a FREE Amazon copy of my best-selling leadership book, "Think Differently to Achieve Success!"
This time of year marks a new season for most people. Summer vacations are complete, school's are back in session, and there's probably a laundry list of work priorities waiting to be tackled.
So if you're feeling overwhelmed or a bit behind the 8-ball, know that you're not alone.
Our summer was awesomely hectic … we had a BABY! (And by "we," I understand that it's my wife who actually had the baby!)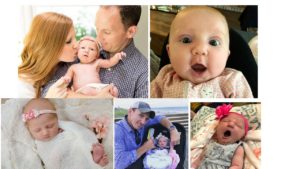 It's nearly been 3 months since our first child, Isla Capri Snyder, was born. My wife and I are blessed she is healthy and already experiencing a growth spurt.
Before Isla was born, we received all sorts of helpful advice from others who have paved the parenting road before us. Best advice was to try and get Isla on a routine for feeding and sleeping as soon as possible. That is, as long as we wanted to sleep at night!
How absolutely correct they were! I've never better understood the importance of having a routine until having a child.
And because we were so diligent on getting her on a routine from the moment we left the hospital, Isla is already sleeping through "most" nights and knows when to expect to eat. I've heard jokes from many other people that we're lucky, that Isla just wants a sibling, and that her sleeping through the night will likely not last much longer. But at least while I write this, I'm inspired by the concept of having a routine.
It is important for all of us to have some sort of ritual or habits that provide structure and can help us stay organized. Routines also can help us feel that we're getting things done and making progress.
So if you're feeling stuck or overwhelmed right now, I recommend you reflect on whether a routine can help you. OR perhaps you already have a routine but something still doesn't feel right inside. If that's the case, maybe that's a sign you need to explore a NEW routine.
There are all types of routines. Morning routines. Workout routines. Dinner routines. Office routines. Relationship routines. Etc.
Great thing about a routine is that we decide them. We can start one or end one when we make a decision to do so and hold ourselves accountable accordingly. This isn't easy to do though.
Routines can be good or bad, so we need to make sure they are positive routines. For example, we certainly don't want to be in a relationship with someone else that feels boringly routine. Instead, think differently about how a routine "date night" every Friday or a weekend getaway once a month will help rekindle your romance. See the difference?
Having a routine in the morning is absolutely crucial. It'll start your day off right or start your day off on the wrong foot. First things I do each morning are give my wife a kiss on the cheek, smile at my baby girl, go downstairs to make a cup of coffee, feed the dogs, feed the fish, let the chickens out, and then walk down to our newly-built fish pond where I stretch and meditate. I usually accomplish all this within 30 minutes and I love it. I absolutely love being outside, being around animals, and setting my morning tone with gratitude.
This is just my morning routine. I decide it and it kicks off my day the way I want it to. I have other routines as well.
But what about you? Is a routine in order? Is a new routine needed?
Try out a routine and you'll not sleep better, like baby Isla, but you'll wake up better too. Let me know how it works!
Click here to download your complimentary Amazon eBook copy of my best-selling book, "Think Differently to Achieve Success!"  (today only!) If you miss the free book giveaway, visit www.KevinCSnyder.com and enter your email where I'll immediately send an eBook copy to you!